IX Web hosting is one of the top 10 hosting companies in us, in terms of size. According to third party estimates, they host over 494,000 domains. They own over 1% of US market share. They also have a sister concern named hostexcellence, which offers packages similar to ix web hosting.
With plans starting from $3.95 per month, they offer excellent value for money. Available in both Linux and Windows hosting, IX Web Hosting is a good choice for hobby, entertainment sites and small business web sites.
IX Web Hosting Features
They provide nearly everything needed for a business website. They use H-Sphere control panel, which is good. H-Sphere is not as popular as cPanel but it is simple, easy to use and does almost everything needed for a normal website. Firewall Protection, Spam filtering, Website Templates etc. are standard with all packages. Also, they offer free domain names with all plans.

All the plans come with unlimited space and bandwidth. The major difference among them is the number of IP address provided. For multiple sites hosting, from SEO point of view it is good to have different IP addresses. So webmasters who want to host multiple sites may find "Business Plus" hosting very helpful.

All the 8 IP address will most probably be from different class "C" even though IX doesn't guarantee it(We know, because we used to host on IX). Having 8 different class C IP is great news for webmasters who want to link their sites and transfer the PR. Most hosts who offer unlimited/large number of add-on domains, doesn't provide different IP for each domains.
IX Web Hosting Coupon
They offer 10% discount on the billing amount amount if you go through a
secret link
before signing up.
IX Web Hosting Performance
IX Web hosting offers reasonably good performance.Their uptime as verified by our test account has been poor during August 2008 - October 2008. But it has been steadily improving from the second half of October 2008 and is looking really good these days.
We have been monitoring our site hosted with IX, using a third party service provider. Screen shot below shows the uptime details for the year 2008. For the live statistics directly from the uptime monitor, please go here.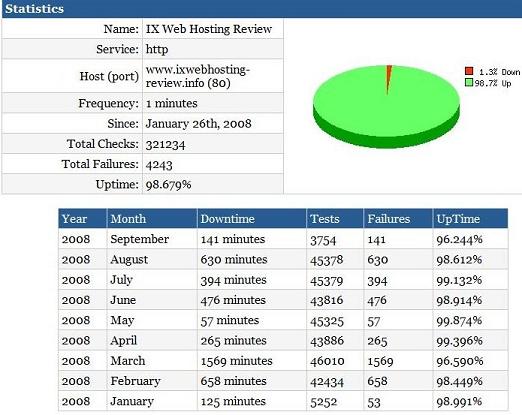 IX Web Hosting Price Value
IX Web hosting is definitely cheap, with offers starting from $3.95. They also allow multiple domains in same account. This is pretty useful for webmaster with many sites.

Windows accounts are $2.00 - $2.50 above the Linux hosting. That is pretty reasonable, though.
Looking for something cheaper than IX Web Hosting? Compare Prices Here.
IX Web Hosting Support
IX Web offer toll free(US only) 24/7 support lines, support chat and support tickets. Toll free lines could have waiting time of up to 30 mts., which is not really that bad. They do reply to support tickets in time as well. Even though the support is fast, there has been reports that the support technicians are sometimes not very competitive. Probably this is not the case always, but there are reports of support tickets not giving the exact information requested. We must add, these kind of things happens for almost every host and sometimes only the bad things get reported.
IX Web Hosting Reviews Added By Users
Cheap Service Matches Cheap Price

Site Hosted: http://affiliate-onlineincome.com
I have been with IXWebhosting since 2006 on their unlimited pro on Linix server.
When I only had 3 sites up it was ok but when I added 9 blogs, the traffic was too much for their underpar cpu's and they limited my service to ftp only.
The only way to access the sites was via ftp and you could only delete certain sites until they were satisfied that I was not in contravention of fair usage in their TOS.
When I logged back in I checked and this was the usage recorded by them
Plan: Unlimited Pro
Total traffic
27.8 MB/99999.0 GB
Disk usage
Avg: 115.91/999999 MB
Last day: 1.03 MB
Needless to say I changed to a better webhosting provider and get this traffic in an hour with no throttling or intervention.
If you just want their cheapest service that might be ok if you don't need traffic.
I have monetized blogs that require traffic.
My recommendation: Avoid this hosting company like the plague. They won't refund your money if you leave.

ED, Duncan on 2012-08-20
11 Blogs can not be recovered

Site Hosted: http://www.immworld.com
I had two issues in ONE month! Imagine, one of my blogs on Unlimited Pro account accepted an article submission related to my blog topic, one article that was submitted by someone, had links within the article content that wasn't allowed another words the company didn't want that link pointing to their site from my article. So someone who submitted this article caused my IXWeb hosting Unlimited Pro account to be BLOCKED. Now, IXWeb hosting company received official complain that one of my blogs has unauthorised link pointing to their web site. Because of this situation my ALL blogs (Eleven of them) + the site that had the conflicting article was blocked or terminated. After requesting to unblock or move my unrelated to the problem blogs to another of my hosting account, my request was denied. Now I have lost ALL of my blogs.

Second problem is out of the blue IXWeb hosting server CPU overload!

I mean I didn't make any changes, NO more sales, not higher rankings according to my regularly checked stats. Now considering these, what if I start promoting my blogs and move to the top rankings? what should I expect to happen with my blogs? probably being blocked and suspended isn't it? that made me think to consider other hosting companies.

Regards
Mykhailo

Mykhailo, London on 2012-06-25
Just waste of time

Site Hosted: http://5eg.net
IP Address: 173.68.183.104
Price is realy low, so I desided to buy 2 year hosting for 15 IPs. Placed an order trough my wifes PP acount, they have canceled it for no reason (my gues in that name was different on PP ID and mine)?, when I asked for reason, I being told to find some other hosting, when I told that I can pay from different card or so, they told me to find another hosting without giving me a reason. Total waste of time and nerves. NOT RECOMMENDED.

Alex, Brooklyn on 2012-06-06
"High server load" means "300- unique visitors per day"

Site Hosted: http://www.railwayobserver.com
Hi,

I've several sites under a IXWebhosting shared hosting plan since two years ago, all of them running Joomla+K2.

The fact is that they don't reach 300 unique visitors per day COMBINED, but I've received anyway a notice for "high server load".

Well, all of us of course know the limits of shared hosting solutions but... maybe the meaning of "CPU use limits" is TOO low for IXWebhosting guys.

I mean that IXWebhosting is cheap, but what is the point on contracting a cheap service if you can get the same result for very small sites (as those of mine) with a machine running on your garage?

All I can say is that after 2 years... I'm leaving-

Fernando, Madrid, Spain on 2012-06-05
Simply fraudulent advertising

Site Hosted: http://several accounts
Unlimited means unlimited until they decide you are using too much space. Then they will lock the account.

Les Mower, Orlando, FL on 2009-09-14
good, but

Site Hosted: http://muslimobserver.com
IP Address: 76.226.64.191
We have had a site with ixwebhosting for about five years now. Overall they have been good. I have used godaddy.com and globat. godaddy had email issues for me, although i've never heard anybody else complain about this--so i don't plan to go back to godaddy. globat (which is a top rated host) is always pushing us and forcing us to buy additional services we don't need--they even take the money by force when we're not looking. ixwebhosting on the other hand has been good overall. we had two separate occasions when the servers got overloaded and they took our site down. for a while they had support done from india which was awful because the customer service reps really didn't care if we lived or died. now their support is back in the good old usa and they have a pretty good system for customers to rate their experience with their cs reps. the only issue i have with ixwebhosting is that those people are intentionally putting their own ads on our 404 pages. sometimes the ads are inappropriate for our site. we complained to them and spent hours configuring our own custom 404 pages but ixwebhosting is continuing to forward to their own 404 pages. makes me angry enough to leave but it's hard to find another host that's as good. probably i will leave in the next couple of years. otherwise they are really pretty good, and their american cs reps are really pretty knowledgeable--sometimes surprisingly so--and helpful.

anonymous, michigan, usa on 2009-09-09
Worse experience with ixwebshoting

Site Hosted: http://maachhinmastikakapurthala.com
IP Address: 117.197.161.5
All those nice reviews are being wrriten by someone from the company- here is mine and as u can see. I am NOT happy.


Poor support – if it not clients fault- why they are left to suffer like this ?

One one hand support is saying that they can switch IP's to run a domain but after more than 24 hrs…this is what is being done to do timepass…

[quote]We are terrible sorry for possible inconvenience caused to you. Unfortunately it is not possible to switch domains from shared IP to dedicated because limit of dedicated IPs for your account is exceeded. To solve the issue we may swap IPs between***********.com domain and one on dedicated IP. If it is acceptable for you please let us know the domain name on dedicated IP you want to be used for exchange.

Waiting for your reply. Feel free to contact us anytime. We are available 24/7.[/quote]

My Reply [quote]You failed to provide uptimes and those services which you promised because 48 hrs and that shared UP issue has not been solved by ixwebhosting.

I do not think that this is very good situation for us as we are going to face too much trouble from people who belongs to this website.

Your sorry is not going to save my skin…and I am in deep trouble due to your inefficiency.

Please change IP of www*****l.com with this website and oblige us. [/quote]

ABOVE CONVERSATION IS OF Aug. 25th

AUGUST 26th [quote]Let me please clarify situation a little. We had to switch all domains from shared to dedicated IPs, after we blocked shared IP which was under DDoS attack. Please look through this article in our status blog to learn more about the problem and how we are working resolving it:
http://status.ixwebhosting.com/2009/08/12/web525-what-happened-and-what-are-we-doing-about-it/
Thus you've received additional dedicated IP addresses which were not included in your hosting package originally. But if you start to switch domains from shared to dedicated IPs, you will loose those dedicated IPs one by one. The only option for you to get **********.com pointed to dedicated IP now is to switch 15 of your domains to shared IP, after that you will get one dedicated IP available for that domain. Thank you for understanding.[/quote]

I protest about this time-pass games of ixwebhosting

Noel Ivon, India on 2009-08-26
Bad VPS Server.

Site Hosted: http://www.r4ds-ds.com
Order a VPN Server from them, take me wait fours days, and still cann't add Domains and Email on the VPN Server, From 2009-8-1, they stop response to my tickets

R4DS, USA on 2009-08-03
Customer satisfuction is awful

Site Hosted: http://www.haqida.uz
IP Address: 91.188.148.184
Ixwebhosting is not reliable in terms of backups even though live chat support is relatively good. Our site overloaded 3 times ixwebhosting server and they suspended our site permanently and refused to provide backups so that we can move our data to other hosting company. Here is copy of live support from ixwebhosting:
Chat InformationPlease wait for a site operator to respond.

Chat InformationYou are now chatting with 'Kirill Skripka'

Kirill Skripka: Hello, my name is Kirill. How can I help you today?

you: It seems nobody can help me I'm in chat for two days and nobody can help me with my issue Ticket ID#12411040107

Kirill Skripka: Let me check your ticket

Kirill Skripka: one moment please

Kirill Skripka: I regret, but you have overloaded our servers too many times. That is why your account was suspended and we are not going to reactivate it to protect our other customers from slowness that caused by your account and database

you: Is it permanently disabled

Kirill Skripka: Yes, correct

you: Can I copy my database it's two year project

you: so that I can move ti to another hosting company

Kirill Skripka: I think we can provide you backups, but you need to ask it in the ticket.

you: We asked already to access ftp account

you: Jamshid, Sodikov, Tue Jun 2 09:27:24 2009 Ticket re-opened Hi we are informed of that our account cannot be enabled. how can we get our all data? Please enable our FTP account for a while for 3-4 days. as we copy all data to another hosting company. If there any chance to enable our account back please inform us.

you: Are you here?

Kirill Skripka: Yes, I am here. We can not enable FTP access for you or re-activate mysql databases. But you can ask to provide you downloadable backups. There is possibility, that our administrators will provide you links to download your files.

you: ok when you provide links for download

Kirill Skripka: First of all I cant promise you that our administrators will provide it for you,You need to ask for backups first. Then you will receive answer. Please update your ticket with request of backups and wait for reply to your ticket

you: How long it takes to provide links for updates. We paid for hosting and I admit that one of our administrators violated TOS but we still your client because we payed for two year hosting beforehand so please feel responsibility to provide at least download links

you: as soon as possible

you: Please provide statement in TOS where is written about permanent disabling account

Kirill Skripka: Please update ticket. You will be informed there. I can not even promise that you will receive your backups. It does not depend on me

Kirill Skripka: Here is a link to our TOS where you can find requested information http://www.ixwebhosting.com/index.php/v2/pages.tos#q15

you: Please tell me what type of crime we conducted that mentioned in TOS that you don't provide backups

you: Did you warn about permanent suspension? We only caused mysql overload

Kirill Skripka: Yes we did it twice. In each ticket regarding overload

you: ok but in extreme case (offensive behavior, adult stuff) you don't provide backups according to TOS right but in our case there is no such activity

you: It seems that customer satisfaction is not important to you and your company. I really regret that I purchased hosting plan from your company.

Sodikov Jamshid, Uzbekistan on 2009-06-04
Mixed review

Site Hosted: http://www.campusconexion.com
I have 2 accounts with IXWEBHOSTING. On one, Im totally sold. No downtime, no lags, no trojans, hacks, or support issues. On the other, Im bailing out. Huge server issues, ridiculous mySQL read times, unbelievably bad downtime with pathetic feedback from support. Clearly they have some problems on some of their servers and not on others. All these problems began when they expanded and months after I opened a second account. It's bad enough that I must bail my new account with its 6 webs because my clients cannot get a good enough connection to update content. IT's that bad, and every single day.

Fellini, Spain on 2009-05-11

More IX Web Hosting User Reviews & Offer »
IX Web Hosting Comparison
Visit the links below for a side by side review of IX Web Hosting and other popular web hosts.